Please read the Shipping Policy Carefully – Shipping frozen food is a delicate process! Food purchases are non-returnable and non-refundable once shipped. Unfortunately, we cannot accept returns on perishable food items. Please visit the contact us page to send an email or contact us by phone
Most orders are shipped within 2 business days after the order is placed. Currently, we do not offer same-day shipping. All orders must be placed by 3pm in order to ship according to the table below. All orders placed after 3pm will ship according to the following days schedule. All orders placed on Thursday or Friday will be shipped the following week. Saturday delivery is not available currently. Please see shipping table below.
*If you choose any Next Day Air or 2nd Day Air Shipping this table may not apply to your order.
| | |
| --- | --- |
| Order Placed after 3pm (EST): | Order will ship: |
| Monday | Tuesday |
| Tuesday | Wednesday |
| Wednesday | Thursday |
| Thursday | Monday |
| Friday | Tuesday |
| Saturday | Tuesday |
| Sunday | Tuesday |
* Chart above coincides with delivery transit map below per zone. Please reference this map for questions about delivery for UPS GROUND Shipping.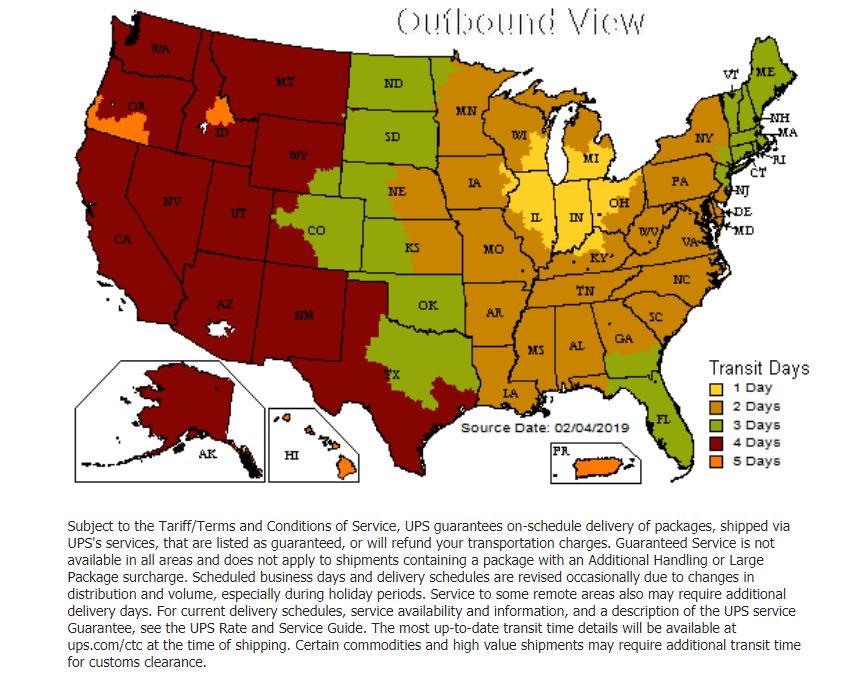 Your Culver Duck Farms product order is hand-packed in a reusable, Styrofoam cooler with ice packs to ensure your products arrive frozen and in excellent condition. If you are sending a gift, please be sure to alert the recipient that a perishable gift will be delivered to them.(Express shipping may apply.)
Time and transit restrictions in certain zip codes may prevent us from shipping frozen foods to those areas. You'll be notified while placing your order if we're unable to ship specific items to the address you've selected.
You will receive a confirmation email with your order number and a link to track your order when your order ships. Please read the email to confirm details (contents, shipping address, shipping information).
We ship our packages via UPS with shipper's release, which means you don't have to be home to sign for your package.
Culver Duck is not responsible for damage to unclaimed orders. It is the purchaser's responsibility to ensure recipients are going to be home on the date of delivery.
Prices are subject to change. Please check our Shipping Policy often for updates.
If you have a problem with your order, or any of the products, please contact Ashley Dowden at 1-800-825-9225. ext 212
To assure delivery, we must have a complete street address and a phone number in case of delivery problems. Please note that inclement weather or other unforeseen circumstances may at times affect shipment arrival dates.
All transactions will be conducted in US currency
Any sale or disclosure of Cardholder account numbers, personal information or Transaction information to third parties is prohibited.
All orders will be processed and shipped from Culver Duck Farms, Middlebury, IN
By purchasing items through the Culver Duck Farms, INC website, you affirm that you have read these Policies and understand, agree and consent to its provisions.
Returns, Replacements, Refunds, and Credits
If you are dissatisfied with the meat you ordered on our Sites for any reason, please contact us at hello@culverduck.com within three (3) days of the date you received the delivery. Depending on the circumstances, we may, in our sole discretion, replace the item at our expense, or provide you a full or partial refund of the purchase price for that meat or ingredient, or do nothing.