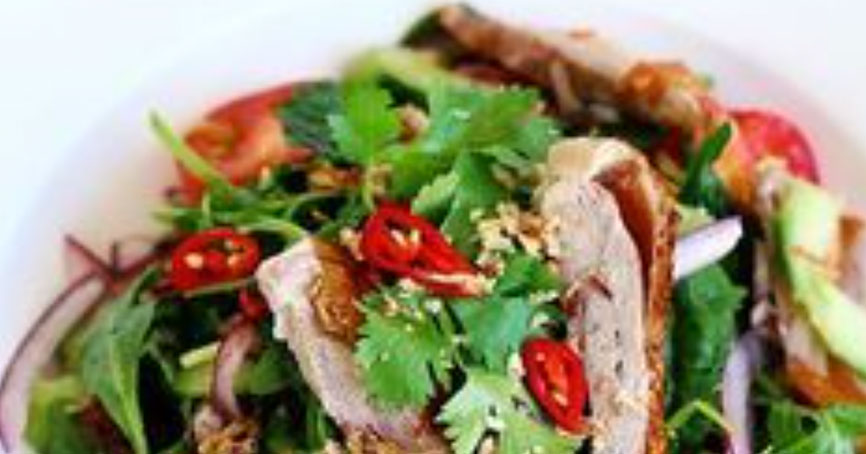 Thai Roast Duck Salad Recipe
Ingredients
Duck
1 Tbsp oil
5 slices fresh ginger
6 cloves garlic, smashed
1 Tbsp rock sugar
½ cup Chinese cooking wine
1 ½ Tbsp dk soy sauce
¼ cup lt soy sauce
3 Tbsp rice vinegar
3 star anise
6 cloves
3 bay leaves
12 whole peppercorns
4-5 pcs orange peel
3-4 cups water
Dressing
6 cloves garlic
3 Tbsp chopped scallions
3-4 bird's eye chilies, thinly sliced
7-8 Tbsp freshly squeezed lime/lemon juice
3 Tbsp fish sauce
3 Tbsp grated Palm sugar
3-4 Tbsp Thai sweet chili sauce
Salad
7oz mixed salad leaves
1 handful fresh coriander – bottom part of stem removed
1 bunch fresh mint, leaves picked and roughly torn
1 cucumber, halved, seeded and diagonally sliced
1pt cherry tomatoes
Crispy fried shallots for garnish
Directions
Duck: Rinse duck inside and out, pat dry. Heat oil over medium heat in pan large enough to accommodate whole duck. Place duck breast side down and let the skin brown up and crisp a bit. Spoon oil over parts of the duck that aren't touching the oil. 
In large pot over medium heat, add a tablespoon of fat from initial pan. Cook ginger and garlic for about a minute. Stir in sugar until it's melted. Add cooking wine, dark soy sauce, light soy sauce, rice vinegar, anise, cloves, bay leaves, peppercorns, dried orange peel, 3 cups water and duck. Liquid should come up about halfway up the duck.
Bring liquid to a boil and reduce heat to low. Simmer for 50-60mins, flipping bird every 15 mins to make sure it cooks evenly.
Lift duck out and drain liquid from cavity. Place duck on rack and set on a baking sheet, breast side up. Brusk the duck all over with honey water. Set aside and preheat oven to 425 degrees. 
Roast duck for 12 to 15 minutes, until the skin is crispy. Watch closely to prevent burning. Take out of the oven and let rest for 10 minutes before carving.
Dressing: using a mortar and pestle, pound the garlic into a paste, then add the remaining dressing ingredients and mix well. Taste and adjust for right balance of sweet, sour and salty.
Salad: Place mixed salad leaves, fresh coriander, fresh mint, cucumber, onion and cherry tomatoes in a large bowl and top with duck meat. Drizzle with dressing right before serving and toss well until evenly mixed.