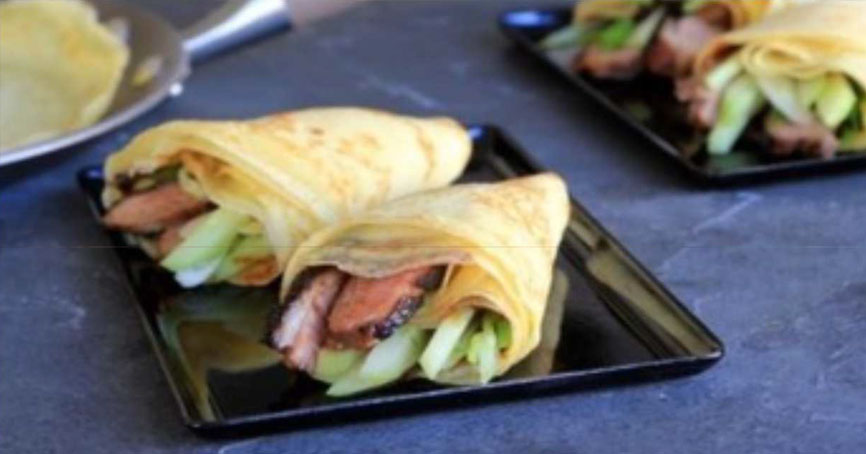 Peking Duck Crepes Recipe
Directions
1. Marinate: Place the duck skin side up on a cutting board. Score the skin diagonally to create a 1/2 in wide diamond pattern and transfer to a resealable plastic bag. Add the hoisin, ginger and 5-spice, shake well to coat and refrigerate at least 4 hours.
2. Heat a non-stick crepe pan over medium heat. Whisk the batter gently and pour 1/4 cup into the pan, tilting in all directions to evenly cover the bottom. Cook until the underside of the crepe is lightly browned (about 1-1 1/2 minutes). Turn the crepe over and cook 20 seconds longer. Transfer to a large plate and repeat with the remaining batter.
3. Removed the duck breasts from the marinade, wipe lightly with paper towel to remove the excess marinade and allow to stand at room temp for 15 minutes. Heat a large nonstick skillet over medium heat. Add the duck to the skillet, skin side down and cook until browned pouring off excess fat as it renders if necessary. Turn the breasts over and cook until temperature reaches 150°F. Remove and cover with foil and let stand for 5 min.
4. Fold crepes into semi-circles, spread the top with 1 tsp of hoisin sauce. Top each with 4 duck slices, cucumber and a sprinkling of green onions. Roll to create a cone shape. Enjoy!