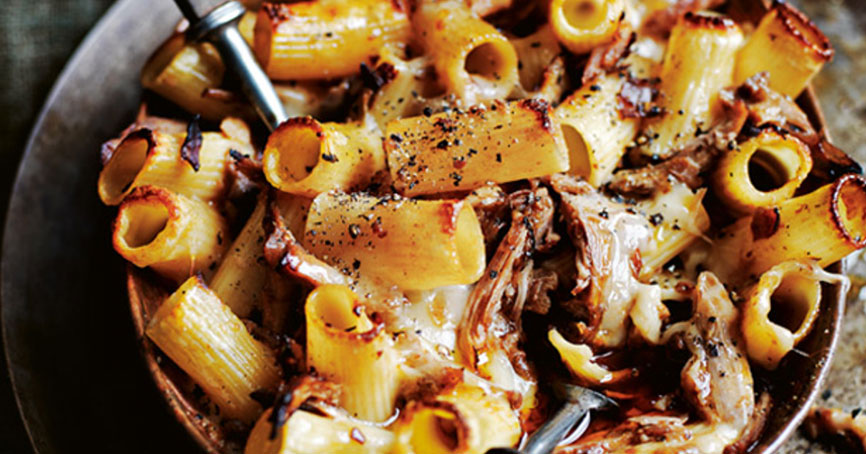 Duck and Prosciutto Ragu Pasta Bake Recipe
Directions
Place the porcini and boiling water in a large heatproof bowl and set aside for 10 minutes to soak.
Preheat oven to 350 degrees. Heat a large ovenproof heavy-based saucepan over medium heat. Sprinkle the duck with salt and pepper then cook, in batches and skin-side down, for 5 mins. Turn and cook for a further 5 minutes or until golden. Remove from the pan and set aside.
Drain the fat, reserving 1 Tbsp in the pan. Return to medium heat and add the onion, garlic, prosciutto and thyme. Cook, stirring occasionally, for 4-5 mins or until softened. Add the tomato paste, brandy, vinegar, stock, porcini and soaking water and stir to combine. 
Return the duck to the pan, cover with a tight-fitting lid and bring to a simmer. Transfer to the oven and cook for 1.5hrs or until the duck is tender. Remove the duck from the sauce and allow it to cool slightly.
Using 2 forks, shred the meat, discarding the bones and skin, and return to the sauce. Stir to combine, set aside and keep warm.
Cook the pasta in a large saucepan of salted boiling water for 6-8 mins or until al dente. Drain, add to the ragu and toss to combine.
Transfer to a 1.6-litre baking dish, top with stracchino and place on an oven tray. Cook for 15 minutes or until golden and bubbling. Sprinkle with pepper to serve.
Makes 4 to 6 servings